I have been playing DayZ for a number of years now. If you do not know what DayZ is, it is a 1st/3rd person apocalyptic/Zombie Survival game with PVP and elements of harsh PVE as well. Items (such as clothing, backpacks, weapons and ammo, food, tools, and much more) known as "loot" spawns all over the country in all types of buildings and areas. It started as a mod of Arma 2 which included zombie hordes but the buildings you were unable to enter inside.
The mod gained massive success and after a few years later, the team assembled to create a standalone version of the game, finally released the game on Steam as Early Access and was one of the first and most known game associated with early access. Having updated graphics/textures and newly modeled interiors of buildings so that they were ALL accessible now, the game was an instant hit and stayed the no. 1 purchased game for like 10 months, selling millions of copies.
When discussing the meta game, most other players are usually hostile and the environment is even tougher to live in. However there are those that are friendly people and will become your friend. I have made many throughout the years. Just hope they aren't toying with you only to betray and kill you with your back turned. It does happen. Also, many players sadly shoot on sight. Those that are longtime DayZ players especially from the mod, do not behave in this fashion as the game is all based on interactions. They, either hero or bandit, are not cowards who kill on sight, they are players who will give you the most interesting interactions to be had in the game. And there are A LOT of them. Since the hype of the game has died down for a while, you find a lot of these hardcore DayZ people are the majority left. So that is good! It isn't always kill on sight day everyday. But that still happens, just understand that.
The island's landscape consists of mostly rural areas, with a handful of larger cities. The country, named Chernarus, is a fictional former-Soviet Republic based on real locations in modern day Poland. The island is 225km squared in size which is about 15km by 15km and it takes a good 2-3 hours to run from end to end. The first 2 photos here give a representation of the gigantic size of the map.
Anyways, the reason for this thread goes as follows. I have always taken screenshots while playing because the game is quite beautiful. And since Lat and I have been playing together quite a lot recently, I have many screenshots of us together. He told me one night I should create a thread to show him and everyone else the photos. I'm also posting in hopes of getting others interested in the game. The experience is one unlike any other game you have played. I'll start at the beginning of the photos I have and end with the ones I have taken most recently of Lat and myself. I am not posting all of them because I have a massive amount, just posting the ones I have saved on my steam profile.
The first set of screenshots are in 1080p taken with my old monitor and video card. The second set are in 1440p which is my current resolution and using my new GPU.
Yea, that is the size of the map. Comparing other games and the average sizes of their maps.
My very first screen shot. A fresh spawn who was killed and robbed of her pants and shoes.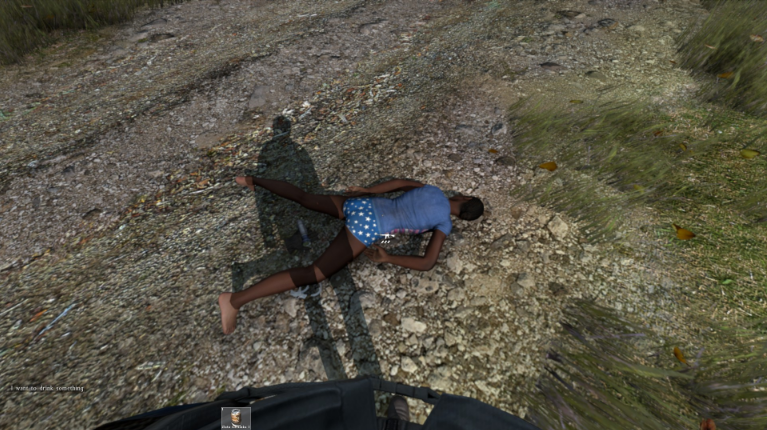 Balota Airfield, upon release there was only one spawn and it was this small town with a military airfield and military tents. Needless to say there was a lot of action from the start. Those high rise apartments in the distance were very popular sniping nests.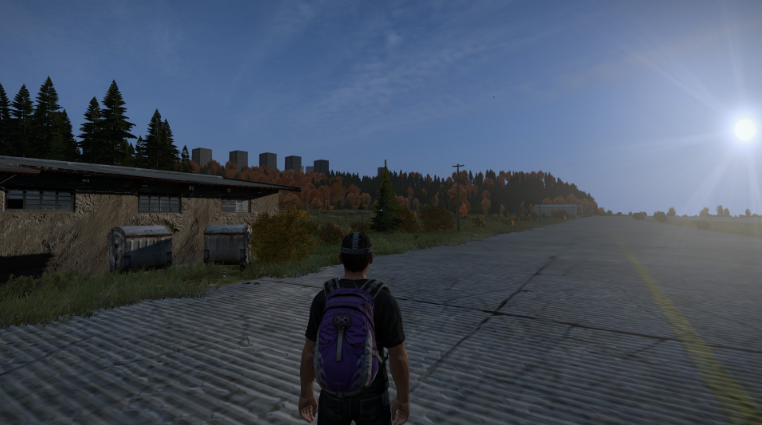 Running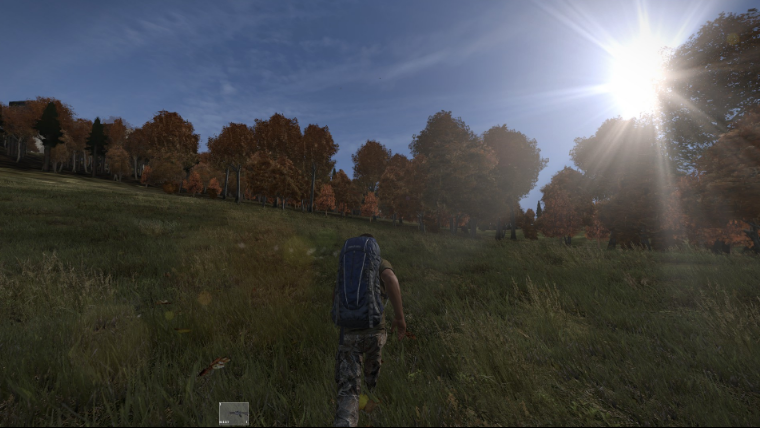 Pretty sunset from Balota airfield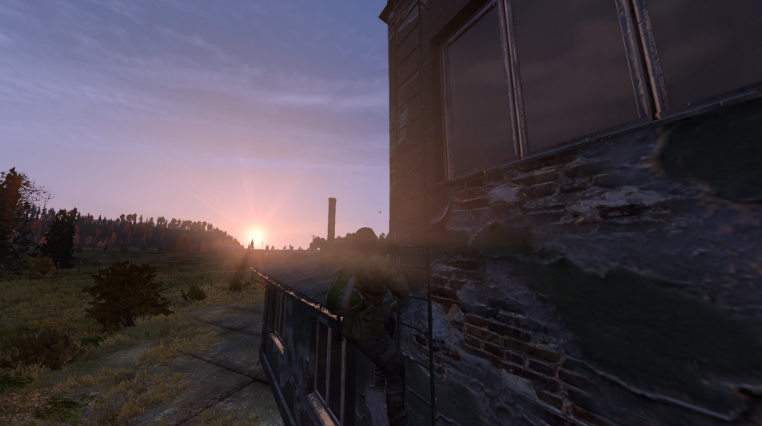 Nighttime with the gamma turned up. I had no flashlight so the gamma allowed me to see.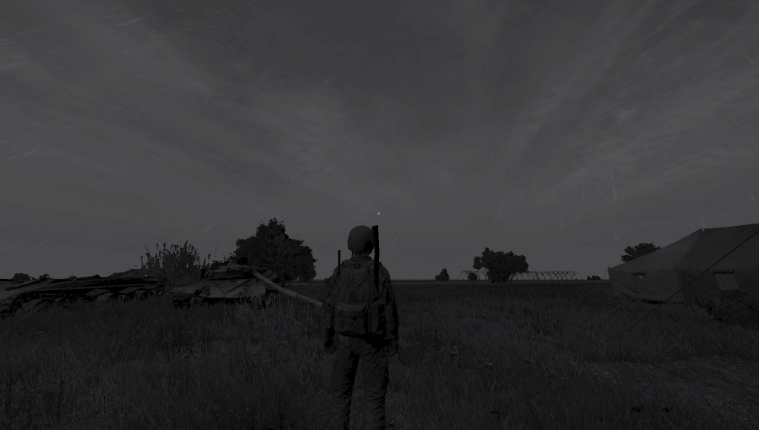 Up top of one of the sniping areas mentioned earlier with a scoped Mosin overlooking Balota Airfield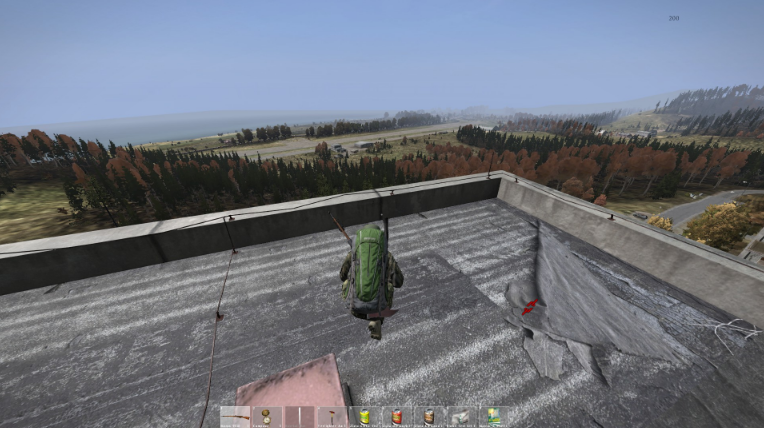 Must have had some blood loss probably due to a few zombie hits. Notice the pale coloring of everything. Blood loss/dehydration/starvation/sickness all cause you to lose color of the game simulating the closer to death you are.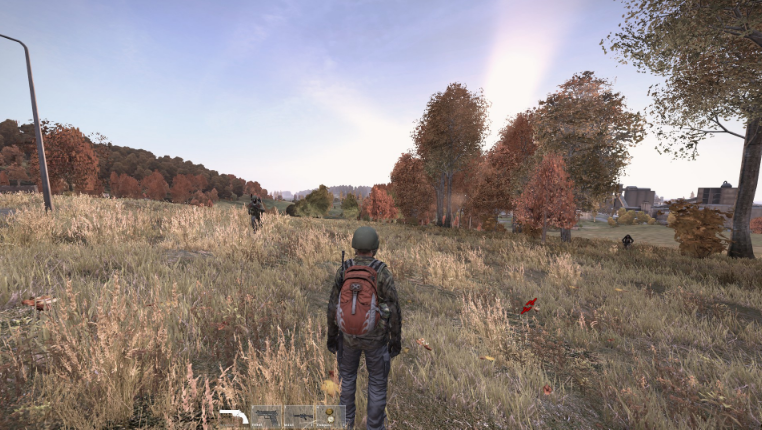 Creepy old mans face on the side of a house with gamma turned up at night.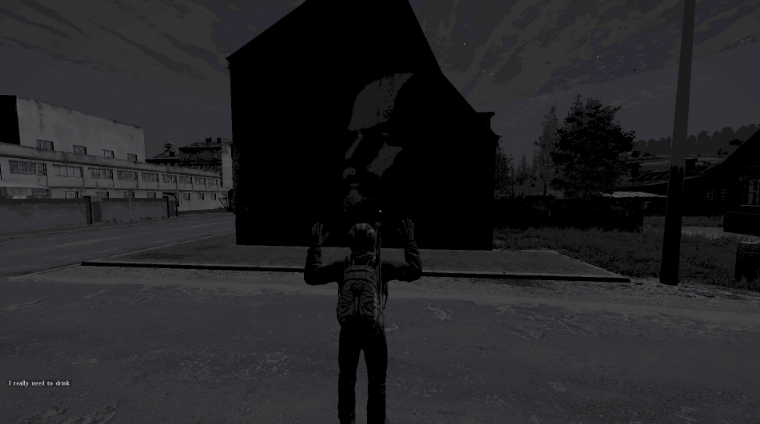 The old user interface showing your inventory.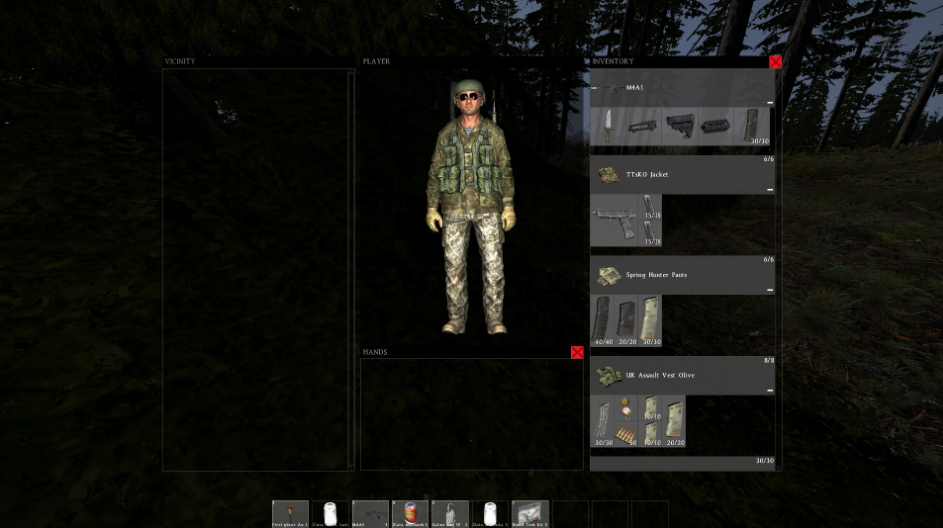 Awesome view on a mountain looking towards the city of Chernogorsk in the distance.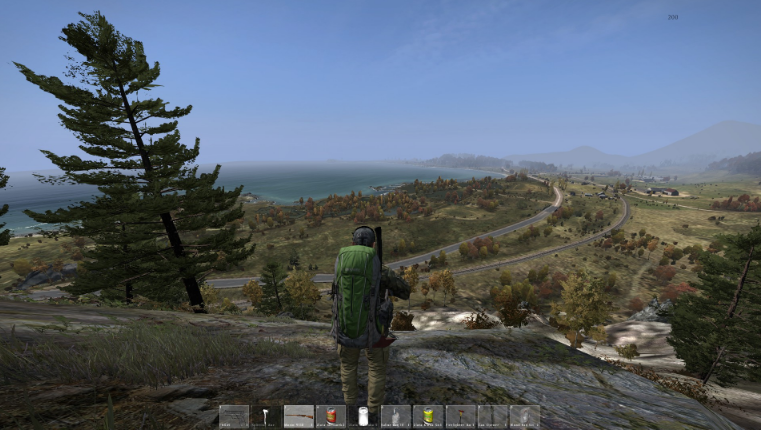 Rainy DayZ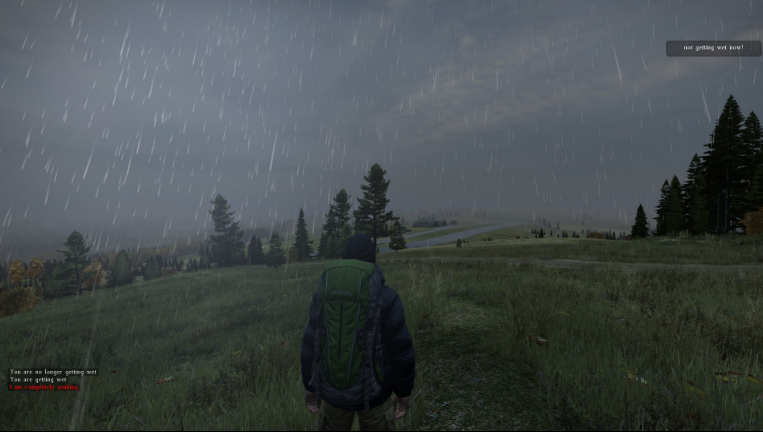 God rays.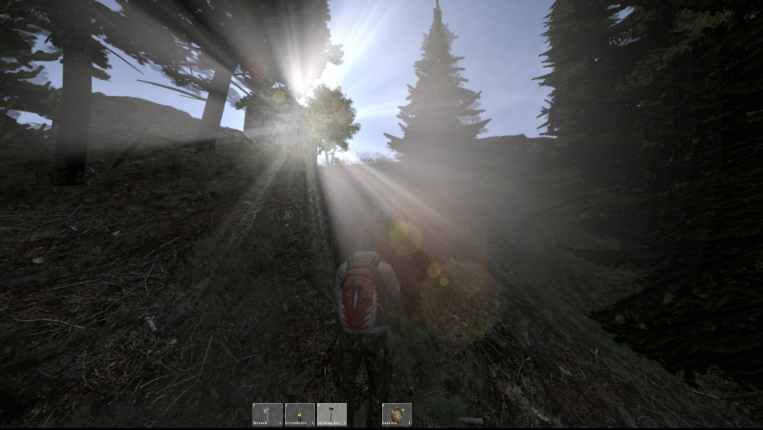 Found a truck!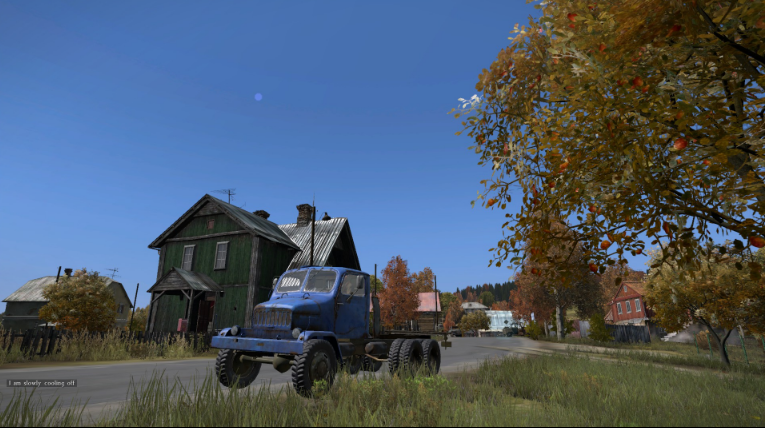 Not sure who is driving.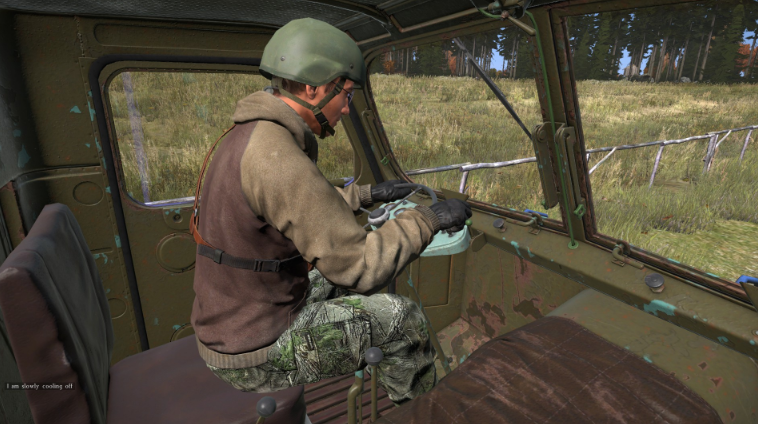 Put in jail!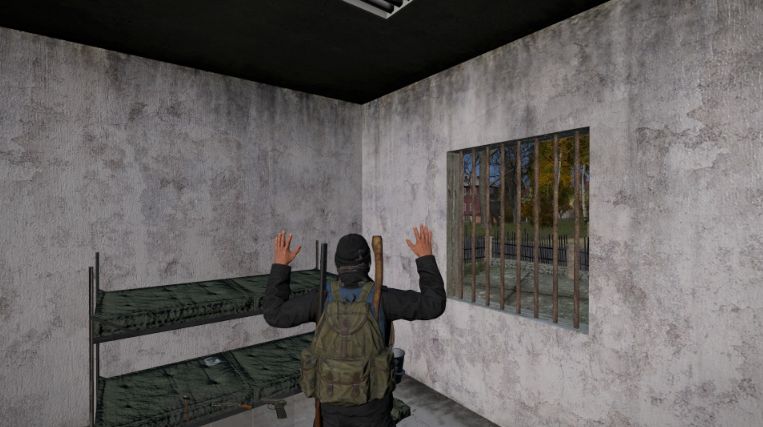 Friend in a ghillie suit, we made a fire to cook some food.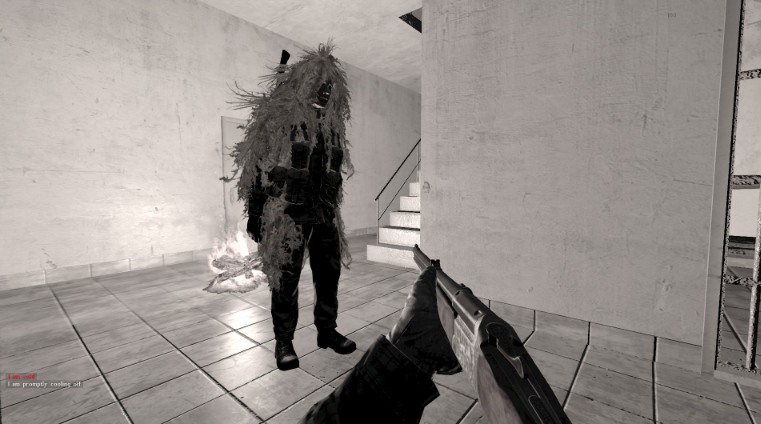 Looking like a bandit.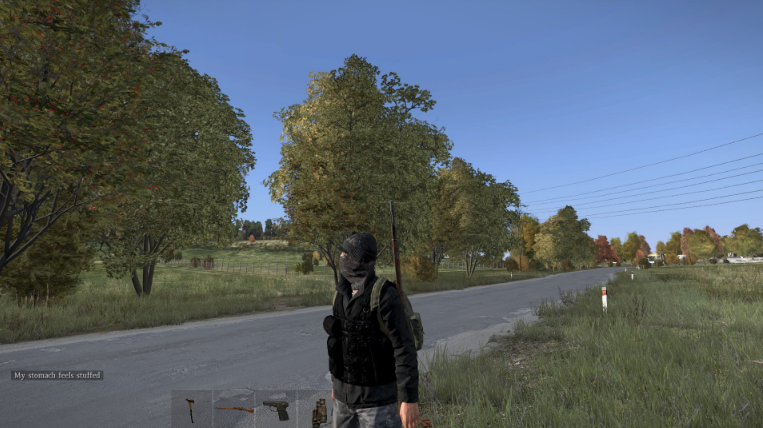 Someone shoveling looking for worms so we can fish, but the shovel glitched out of their hands, lol.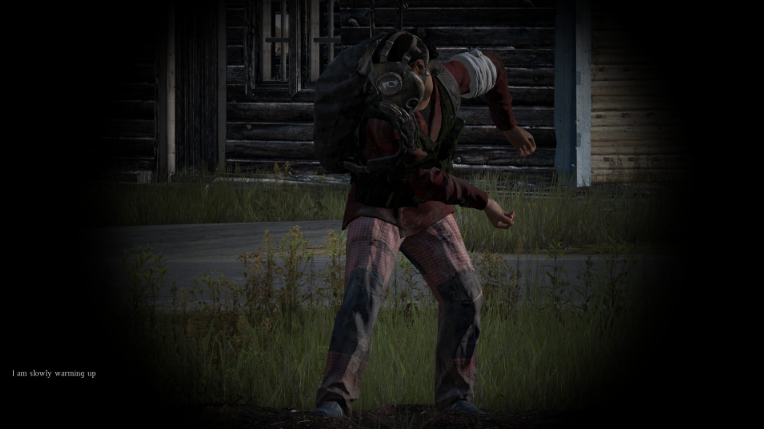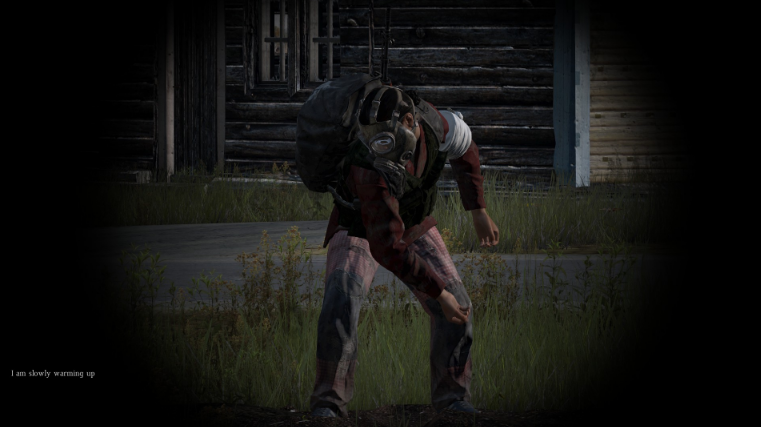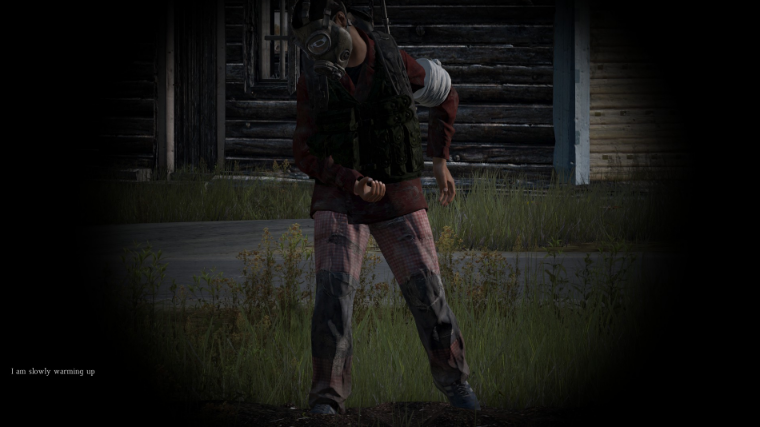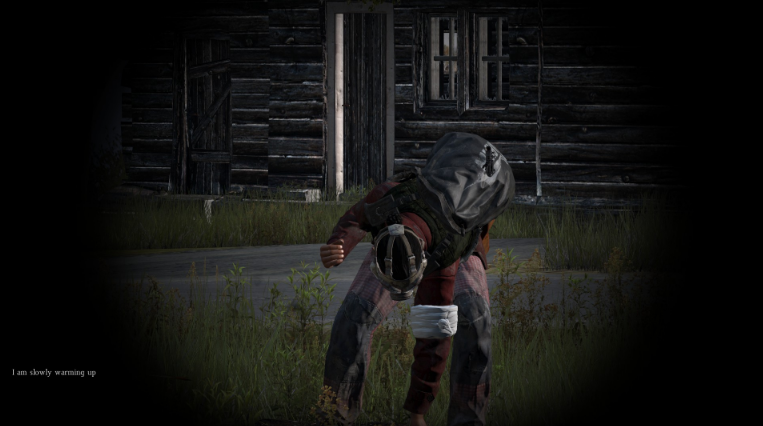 Creepy trees look really cool.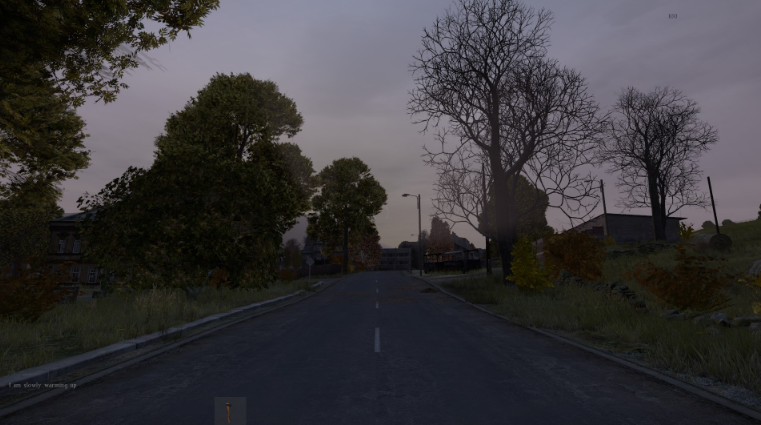 I loved this, creepy old and broken down ski/sky lift. For some reason this was removed from the game.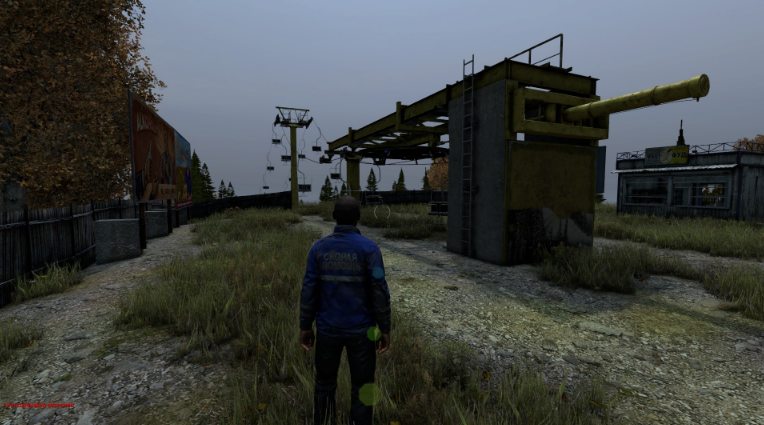 PART 2 - These photos are 1440p res using an EVGA FTW3 1080 Ti.
Improvised silencer for this SKS using a plastic bottle and duct tape. One time use only! There are a lot of improvised items in this game to craft or you can find the real thing. Most improvised items do not last as long as the real thing however.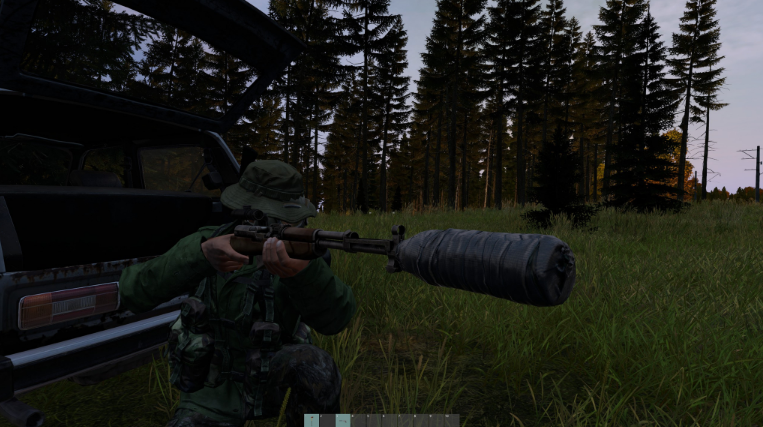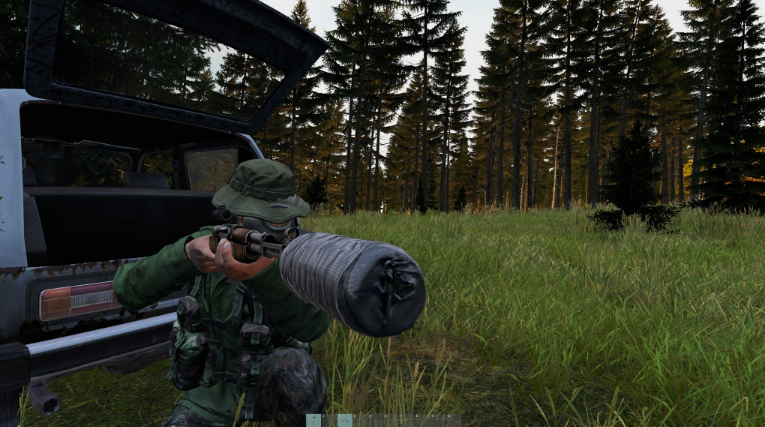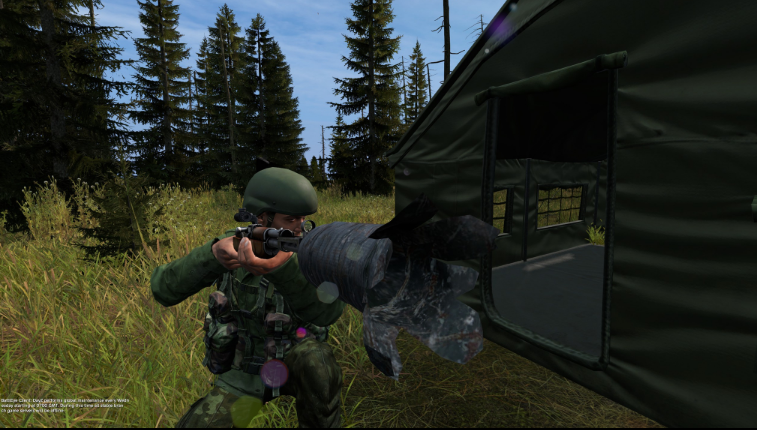 The devs added a new crosshair. Also gorgeous mountains in the distance as far as the eye can see.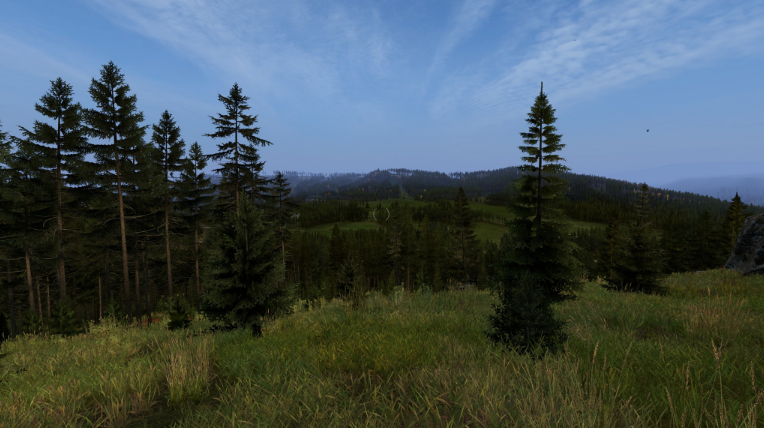 Another pretty sunset along the southern coast. Causing pink fog.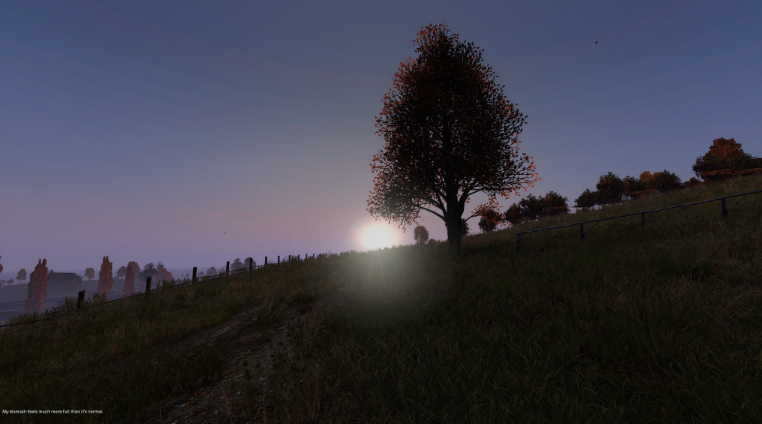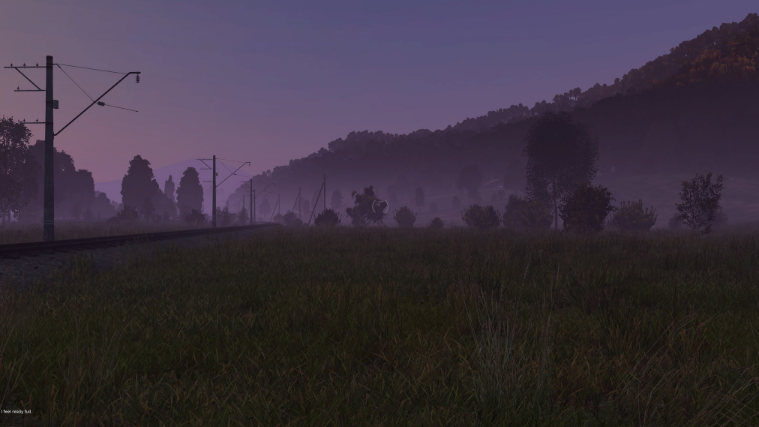 Some sort of small prayer building?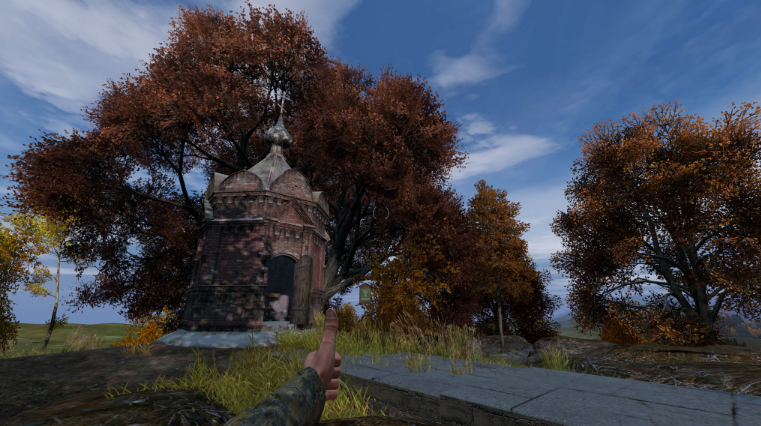 Another awesome view on top of a mountain along the southern coast.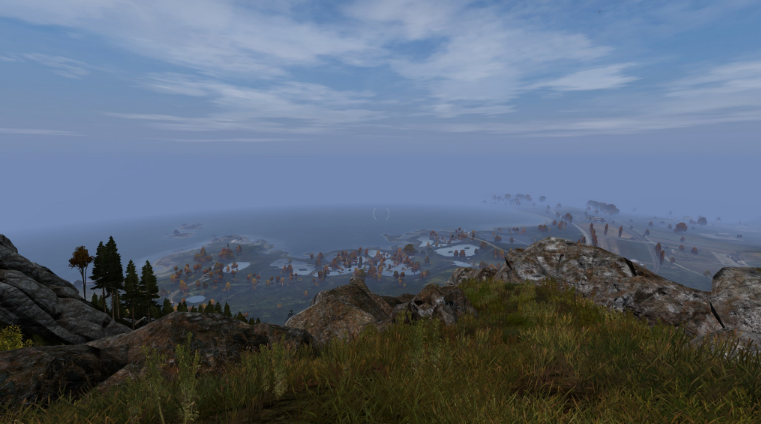 Way out West and up North, where the map ends there is THIS. Endless territory of NOTHING but rolling hills. We call it Dev Land. I have also heard Wasteland. Here is Lat and I running to our areas along the West side of the map.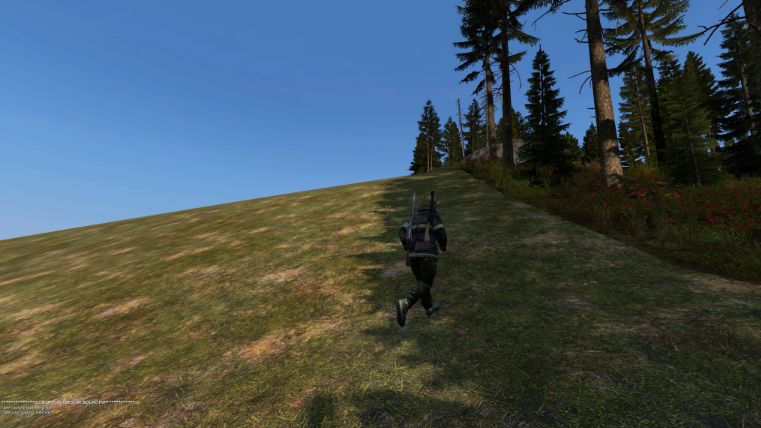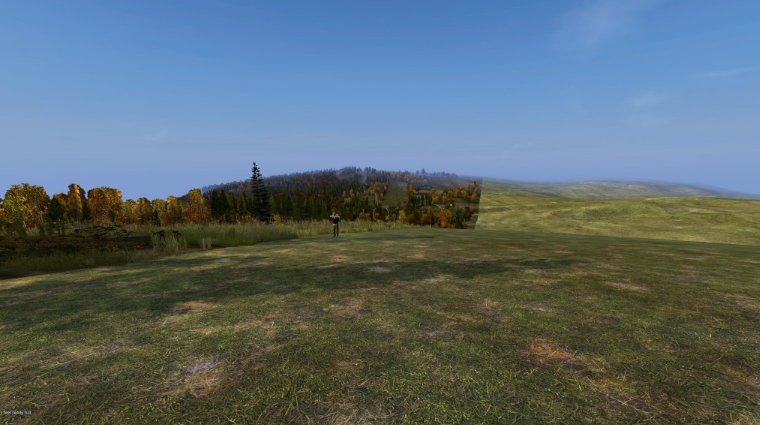 Lat with a thumbs up! It's so weird just how things just stop..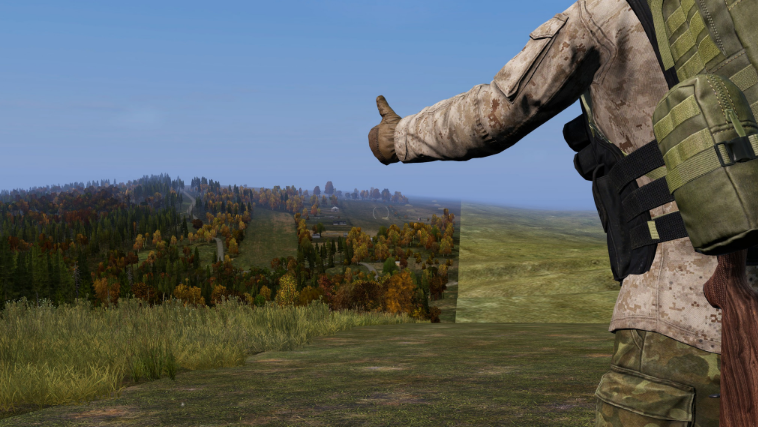 You can literally run forever.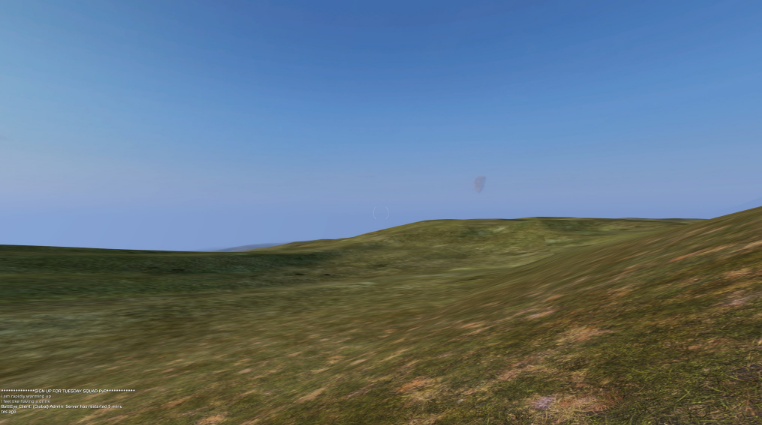 This was a funny spot we came across by accident, and we probably won't ever be back there. Where North Dev Land Meets West Dev Land.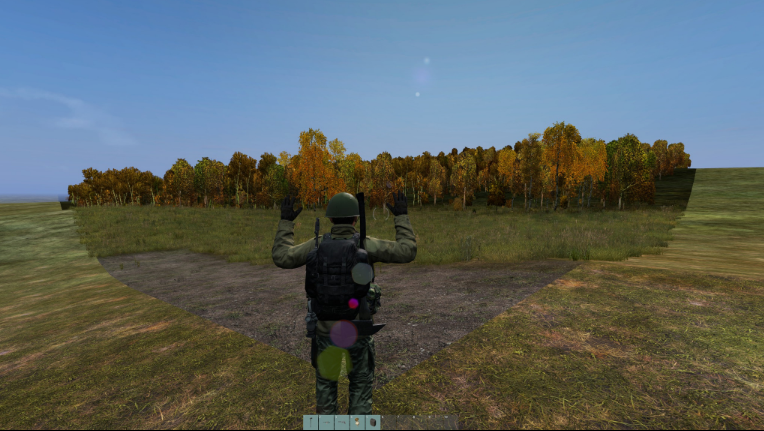 So I'll sit and take in this unique situation for a sec.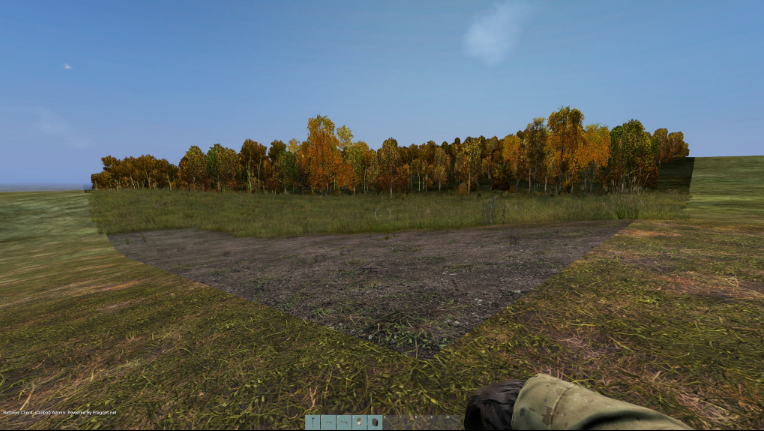 Lat don't shoot!! lol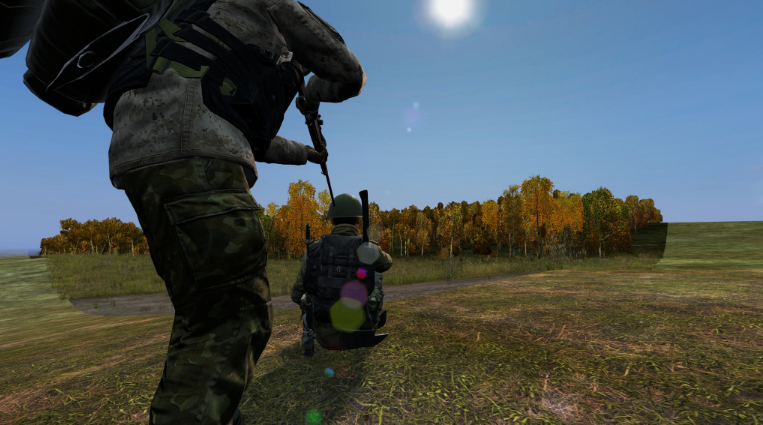 Lat looking like one badass dude in this military hut. He has a silenced M4. One of the rarest weapons to find in the current patch. I haven't seen one in hundreds of hours.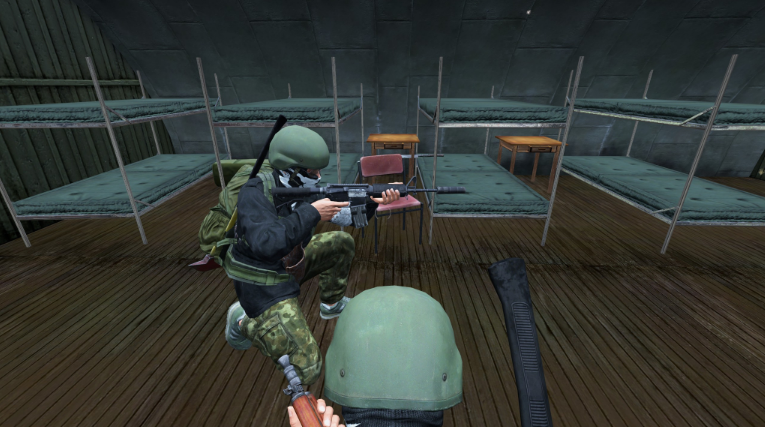 Up where we placed a tent. Western middle of the map.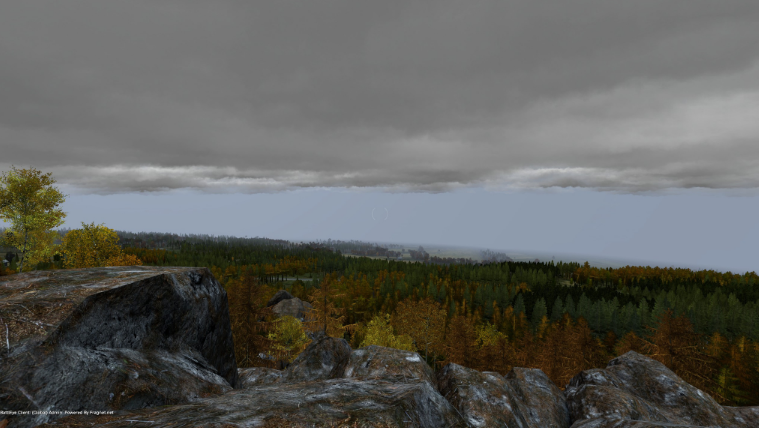 I'm running as a fresh spawn to meet Lat one night when all of a sudden a small herd of deer show and are running in the same direction. One literally ran into me. Scared the crap outta me too. So I run with them for a minute. Also GLITCHED OUT EVIL BOND VILLAIN HAIR.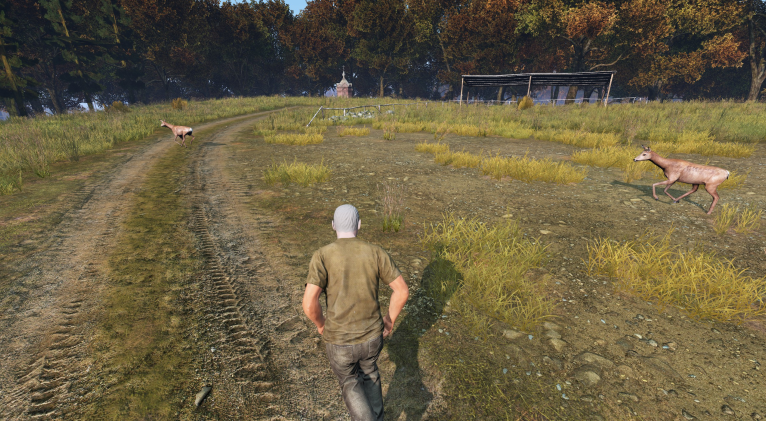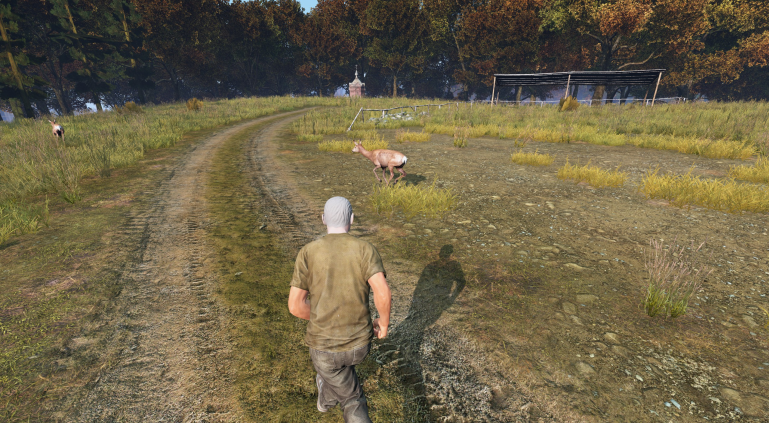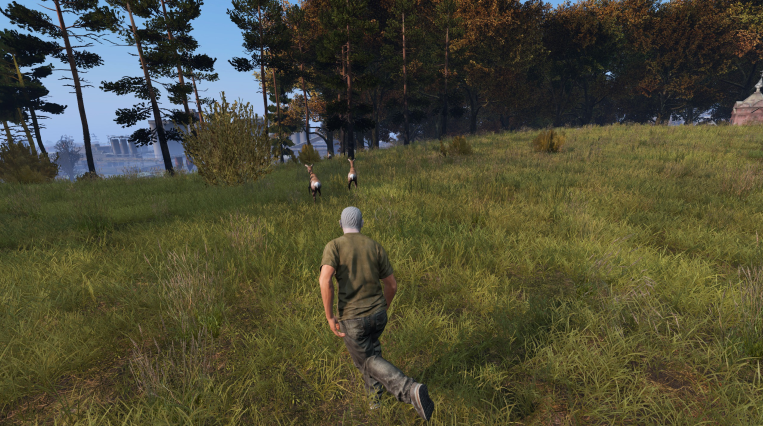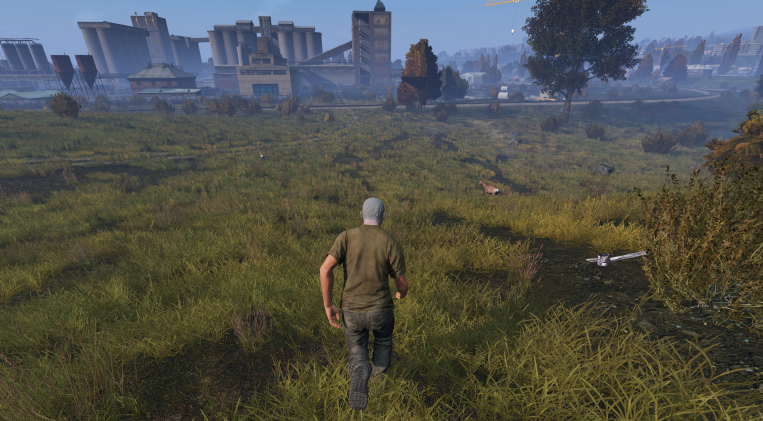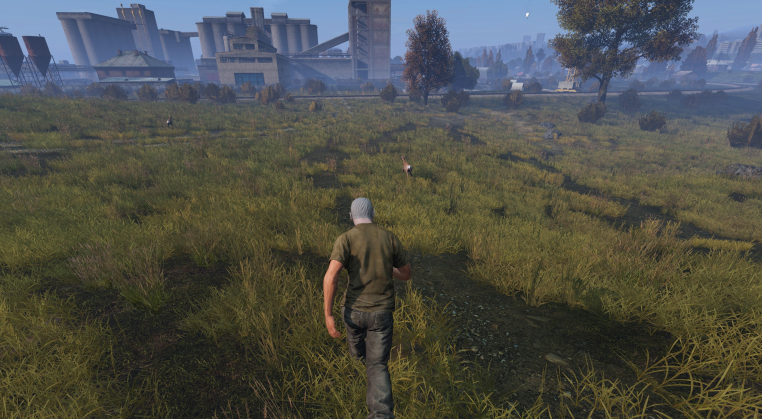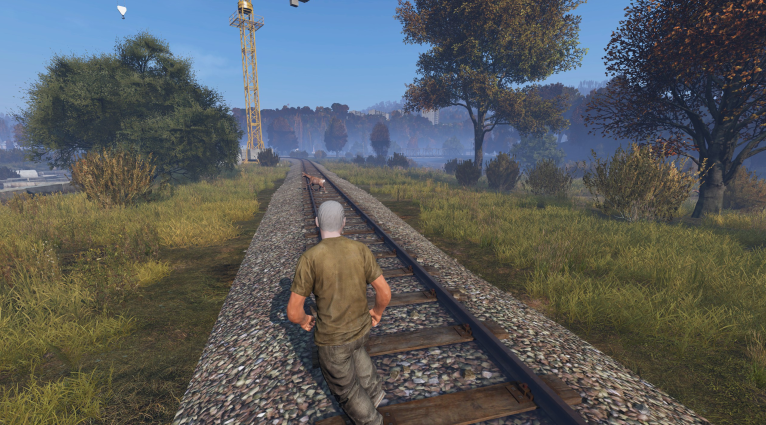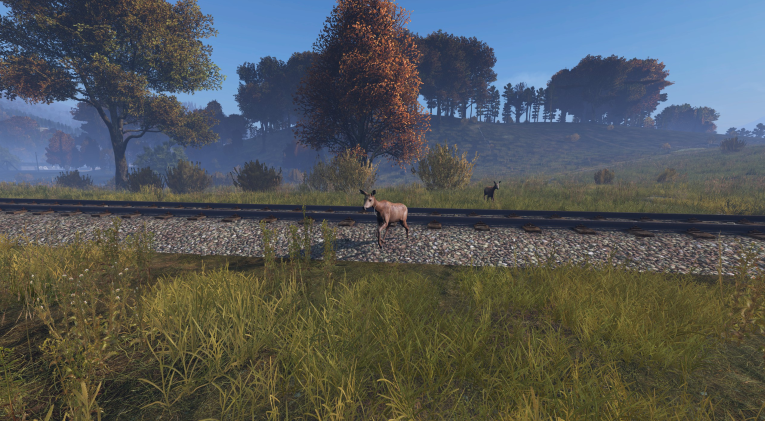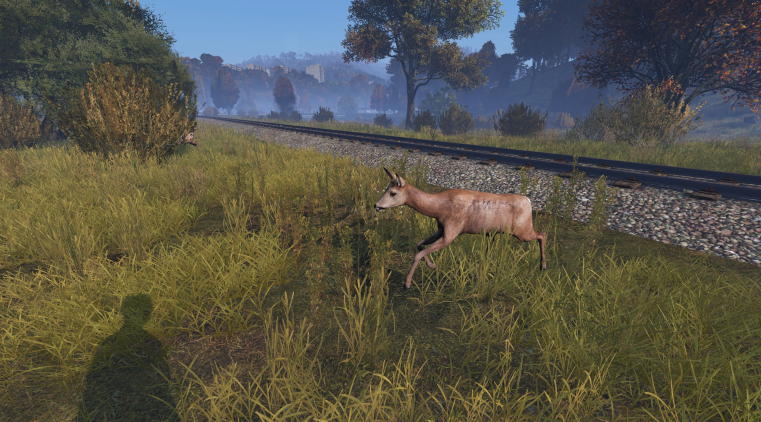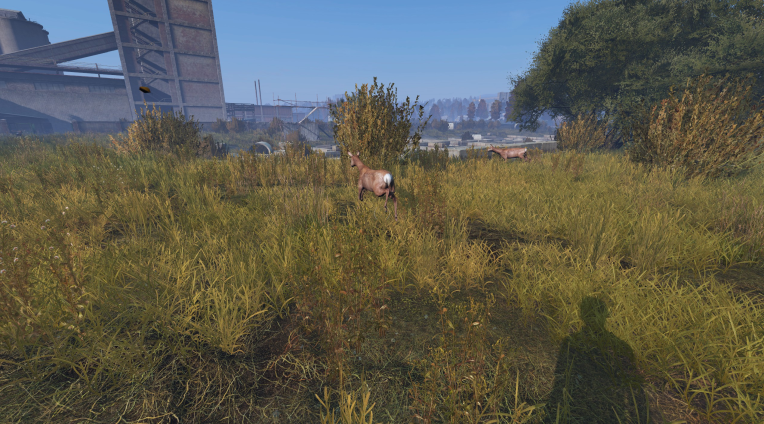 See ya deer!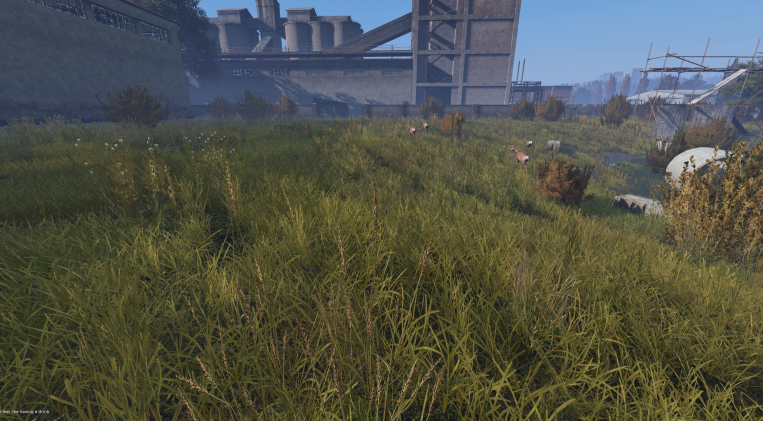 Ok so to explain these next photos, you have to understand the wolves in this game. They are a BITCH. I can't tell you how many times herds of wolves have attacked, stranded, hurt or killed, or just plain ruined our fucking day. You hear one howl and that is the warning howl that they smell you. That means its time to GTFO now and run away. The second howl means "were on you you MOFO you better run before we rip you to shreds." Yea wolves are one of the deadliest things in this game and will completely ruin your day.
So lat and I are in a town called Severograd and he says "I saw this wolf pack run another player into a building in the middle of the city, but this one wolf is in this ditch, I think he is stuck." So we approach slowly.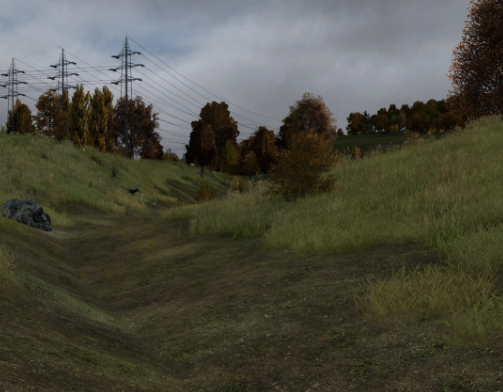 Getting closer and closer, lo and behold this lone wolf is stuck somehow! LOL running in circles barking his head off and he couldn't get out!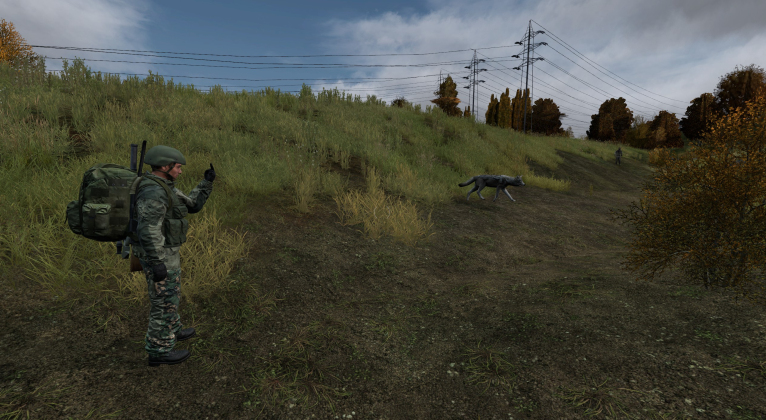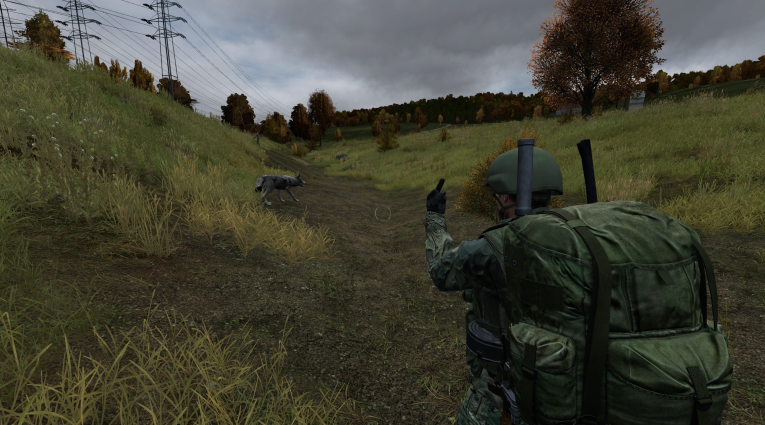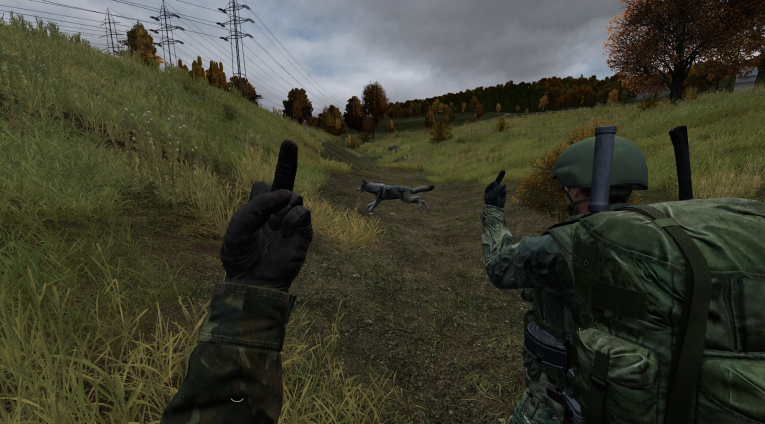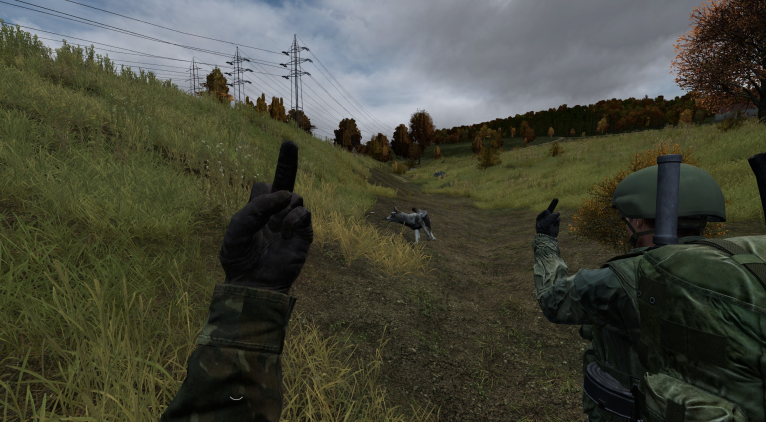 It was one of the funniest things I have ever seen in this game and we laughed so hard for a good 5 minutes and took these photos. It was nice to be on the other side for once without worry.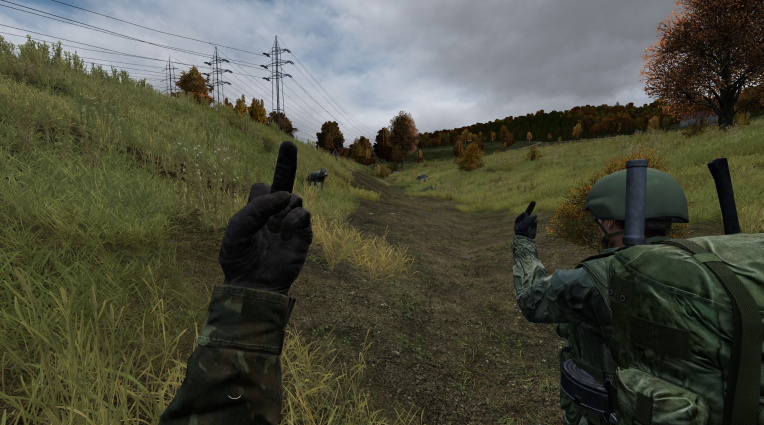 So I'm crawling in the grass when all of a sudden, LAT'S BIG SCHNOZ! lol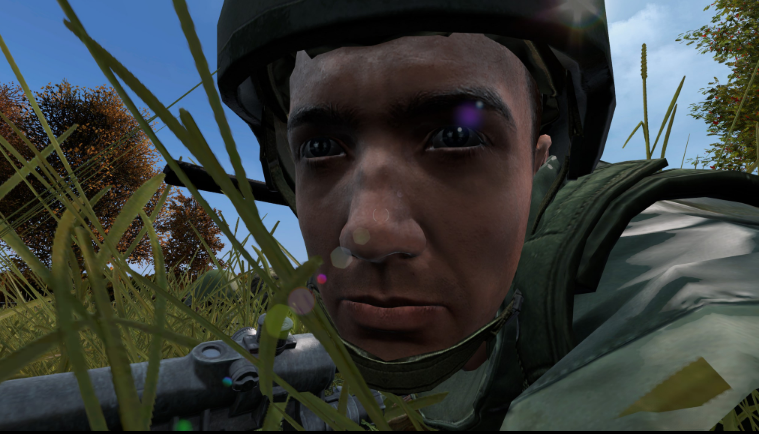 Anyways, that's all right now. I hope this photo set was enjoyable.
DayZ really is such a good game. Perfect if you are into a REALLY good, IN DEPTH, survival game with zombies and other players.
The game has loads of crafting, SO MANY ITEMS, and next patch is beta. Beta will bring base building, construction, and so much more.
You basically choose how you want to live. You can be a hero, bandit, survivalist, murderer, psychopath, cannibal, a farmer. You name it. You can be good or do bad, or do nothing at all except look after yourself. The possibilities really are endless.
I hope I have gotten some of you interested.